23 Jan

Olive Wellness Institute Updates

Welcome to Olive Wellness News. Our mission at the Olive Wellness Institute is to increase awareness of Extra Virgin Olive Oil and other olive products by gathering, sharing and promoting expert, credible and evidence-based information on their nutrition, health and wellness benefits. Enjoy!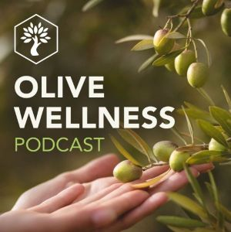 A new fortnightly podcast from the Olive Wellness Institute examines the health and wellness benefits of olives and olive products: October 2019 Podcasts:
A growing library of research backs up the health benefits of an olive oil-based diet, according to British physician Dr Simon Poole. Dr Poole is an internationally renowned authority on the science and application of the Mediterranean diet and co-author of The Olive Oil Diet: Nutritional Secrets of the Original Superfood. He explains why he sees olive oil as the heart of the Mediterranean diet and how to choose a high-quality extra virgin olive oil.
A healthy body and mind is achieved from a range of factors including what you eat, the quality of your sleep, your environment and the exercise you take. This holistic approach to healthy living is the rationale behind lifestyle medicine, a discipline which is championed by Shivaun Conn, Vice President of the Australasian Society of Lifestyle Medicine. She discusses lifestyle medicine in detail and how extra virgin olive oil and how a Mediterranean diet are key ingredients to good health.
For more information about Shivaun visit: http://www.discoveryhealthcoaching.com/about/  and for the Australasian Society of Lifestyle medicine visit: http://www.lifestylemedicine.org.au
There's little doubt that extra virgin olive oil and olive leaf extract have huge health and nutritional benefits – the evidence is in. But, what other properties does the olive tree have that are good for your health? Olive Wellness Institute's Sarah Gray details the qualities of nature's very own super plant.
Click on the above links and play the podcasts.
Stay up to date with the most recent, evidence-based, olive science blogs:
Recent research conducted in an Australian oil specialist laboratory confirms that Australian Extra Virgin Olive Oil is the safest and most stable oil to cook with. Canola oil, grapeseed oil and rice bran oil, were found to be the least stable and produced the highest level of polar compounds when heated.
Polar compounds are a by-product when oil is exposed to heat and are proven to be detrimental to health and linked to Alzheimer's and Parkinson's Disease.
The Australian Dietary Guidelines do not have a specific volume recommendation for EVOO. However, on average, volumes of 25 – 50ml of EVOO per day seem to be most strongly associated with health benefits in healthy populations and those with risk factors including mild hypertension and overweight or obesity. 1-5 These studies have investigated EVOO as a food, rather than as part of a specific dietary intervention such as the Mediterranean diet.
Click on the above links and read on.
Recorded webinars sharing evidence based information about olive oil, olive leaf or olive health and wellness products?
Here, the Olive Wellness Institute will continue to upload informative webinars that explore the research and health benefits of all olive products.
Click on the above link and select a webinar.
The Olive Wellness Institute has compiled a set of grower dedicated resources:
Need hard copies of these resources?
Please email us your request at info@olivewellnessinstitute.org
Click on the above link and read on.