30 Apr

Olive Wellness Institute Updates May 2020

Welcome to Olive Wellness News. Our mission at the Olive Wellness Institute is to increase awareness of Extra Virgin Olive Oil and other olive products by gathering, sharing and promoting expert, credible and evidence-based information on their nutrition, health and wellness benefits. Enjoy!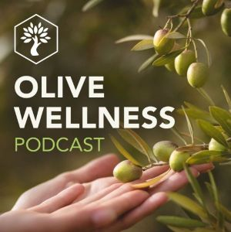 A fortnightly podcast from the Olive Wellness Institute examines the health and wellness benefits of olives and olive products. Latest podcasts:
Posted on April 14, 2020
Not only does the Mediterranean diet and extra virgin olive oil help alleviate health problems – like diabetes or fatty liver – people who consume them feel better, their skin looks better and they have a lot more energy. That's according to Professor Catherine Itsiopoulos, who's a world-renowned leader in dietetics and the Mediterranean diet. Catherine shares her research around the potential benefits of EVOO and how to incorporate it into your daily lifestyle.
Posted on April 1, 2020
The world is reeling from a coronavirus pandemic. Not a day goes by without an increase in the numbers of people diagnosed with COVID-19, which is overwhelming health services and threatening the frail and elderly. From his home in Cambridge, England, physician Dr Simon Poole is in the midst of strict measures enforced by the British government. Author of The Olive Oil Diet, Simon says now is a particularly important time to look after oneself, by eating well, staying fit and maintaining mental health.
Click on the above links and listen to the podcasts.
Stay up to date with the most recent, evidence-based, olive science blogs:
Did you know that Australian men live five years less on average than women?
The Australian Bureau of Statistics Leading Causes of Death by Gender shows that the death rate from the main causes of death is usually higher for men than women. In fact, more men than women die from heart disease, trachea and lung cancer, chronic lower lung disease, colon cancer, leukaemia, diabetes and suicide. Men also experience higher rates of addiction, violence and crime.
From a dietary perspective, a high saturated fat and salt intake, inadequate fibre consumption and too many sugary drinks increase a man's risk of heart disease and other chronic illnesses. The key to dietary success is getting the balance right. The focus should be on consuming whole foods. Think plenty of fresh vegetables, fruit, dairy, whole grains and lean proteins. Not to mention reducing our alcohol intake. That advice goes for both genders. However, data suggests that men drop the ball more than women when it comes to healthy eating.
So, what if there was a simple dietary change that Aussie men could make to improve their health? Well, there is… it's the addition of extra virgin olive oil (EVOO) in the diet.
What volume of Extra Virgin Olive Oil (EVOO) should people consume each day? This is a common question that often elicits many different responses.
The Australian Dietary Guidelines do not have a specific volume recommendation for EVOO. However, on average, volumes of 25 – 50ml of EVOO per day seem to be most strongly associated with health benefits in healthy populations and those with risk factors including mild hypertension and overweight or obesity. 1-5 These studies have investigated EVOO as a food, rather than as part of a specific dietary intervention such as the Mediterranean diet.
A 2012 trial showed that 60ml of biophenol rich olive oil reduced blood pressure in those with normal to high blood pressure or stage 1 hypertension, whereas an olive oil that did not contain biophenols did not.5 It is worth noting that EVOO is naturally high in biophenols, whereas refined olive oil is not.
Recorded webinars sharing evidence based information about olive oil, olive leaf or olive health and wellness products.
Here, the Olive Wellness Institute will continue to upload informative webinars that explore the research and health benefits of all olive products.
During this webinar you will hear Associate Professor Mary Flynn, a research dietitian at The Miriam Hospital and an Associate Professor of Medicine at Brown University, explore how Extra Virgin Olive Oil can improve a number of risk factors for chronic diseases that would conventionally be treated with medicine.
Mary will present the literature on the risk factors that can be improved with the use of Extra Virgin Olive Oil and the minimum amount and time needed to see benefit. Mary will also discuss what components of Extra Virgin Olive Oil provide the health benefits and the advantages of using Extra Virgin Olive Oil in food preparation.
Click on the above link and view.
Are you looking for credible information about olive oil, olive leaf or olive health and wellness products?
Do you need some resources to take to a local farmers market or event?
Here, the Olive Wellness Institute has compiled a set of grower dedicated resources.
Need hard copies of these resources?
Please email us your request at info@olivewellnessinstitute.org
Click on the above link and select the resources you need.