02 Mar

Olive Wellness Institute Updates March 2020

Welcome to Olive Wellness News. Our mission at the Olive Wellness Institute is to increase awareness of Extra Virgin Olive Oil and other olive products by gathering, sharing and promoting expert, credible and evidence-based information on their nutrition, health and wellness benefits. Enjoy!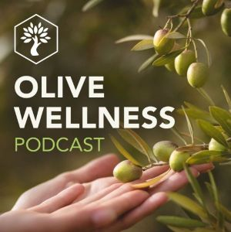 A new fortnightly podcast from the Olive Wellness Institute examines the health and wellness benefits of olives and olive products. Latest podcasts:
Because of lifestyle and dietary choices, an increasing number of people are developing Type 2 diabetes. Recent research points to the benefits of consuming extra virgin olive oil with a Mediterranean diet for those with diabetes. Nutrition scientist and dietician, Dr Joanna McMillan, explains how properties, like low GI, in extra virgin olive oil help combat diabetes, and promote other health benefits.
We all know we should eat more vegetables – it's a message that's been drummed into all of us since primary school. But what does that actually mean? How much should we eat? How do we cook them? Should we cook them? What oils should we use? "Culinary nutrition" is an increasingly popular field of study that helps bring dietary recommendations to life – and allows people to know exactly what they should do with their food to make it fun and interesting. Accredited practicing dietitian, Jacqui Plozza, shares her interest in the health benefits of Extra Virgin Olive Oil and the Mediterranean diet.
Click on the above links and read on:
Stay up to date with the most recent, evidence-based, olive science blogs:
By Stefanie Valakas, Stefanie is an Accredited Practising Dietitian & Nutritionist practicing privately at clinics across Sydney and contributes regularly in both print and digital media. Stefanie has a special interest in nutrition for women's health, fertility, pregnancy & paediatrics and runs her own blog, The Dietologist.
Summary
With 1 in 6 Australian couples experiencing infertility, often with complex aetiologies, research on the role of diet and lifestyle during pre-conception and in sub-fertile population continues to emerge. Research continues to favour the Mediterranean dietary pattern in optimising fertility as well as vitamin E-rich foods and supplementation in both female and male reproductive conditions affecting fecundity, and in improving the success of artificial reproductive treatments such as in-vitro fertilisation (IVF).
WRITTEN BY:  Joel Feren
From a dietary perspective, a high saturated fat and salt intake, inadequate fibre consumption and too many sugary drinks increase a man's risk of heart disease and other chronic illnesses. The key to dietary success is getting the balance right. The focus should be on consuming whole foods. Think plenty of fresh vegetables, fruit, dairy, whole grains and lean proteins. Not to mention reducing our alcohol intake. That advice goes for both genders. However, data suggests that men drop the ball more than women when it comes to healthy eating.
So, what if there was a simple dietary change that Aussie men could make to improve their health? Well, there is… it's the addition of extra virgin olive oil (EVOO) in the diet.
Olive oil consumption significantly reduced the risk of cardiovascular disease (CVD) risk and stroke, but not specifically for coronary heart disease (CHD) risk.
Click on the above links and read on:
Recorded webinars sharing evidence based information about olive oil, olive leaf or olive health and wellness products.
Here, the Olive Wellness Institute will continue to upload informative webinars that explore the research and health benefits of all olive products.
Click on the above link and select a webinar:
The Olive Wellness Institute has compiled a set of grower dedicated resources. Click on the heading above.
Need hard copies of these resources?
Please email us your request at info@olivewellnessinstitute.org