04 Jul

Olive Wellness Institute Updates July 2020

Welcome to Olive Wellness News. Our mission at the Olive Wellness Institute is to increase awareness of Extra Virgin Olive Oil and other olive products by gathering, sharing and promoting expert, credible and evidence-based information on their nutrition, health and wellness benefits. Enjoy!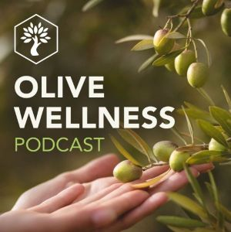 A fortnightly podcast from the Olive Wellness Institute examines the health and wellness benefits of olives and olive products. Latest podcasts:
Posted on June 23, 2020
Can you tell a bad olive oil from a good one? Like any food, there's a certain pungency to the aroma of "off" olive oil and that of course affects the way it tastes and its nutritional benefits. Claudia Guillaume has extensive experience in sensory evaluation of olive oil and olive products. Originally from Argentina, Claudia Guillaume came to Australia in 2006 to head up Modern Olives Laboratory. Major players in the olive industry turn to the team at Modern Olives for help in project development, technical advice, applied research and of course olive- and olive-oil testing.
Posted on June 9, 2020
Couples looking to conceive would benefit immensely from a Mediterranean diet; it also helps to ensure the good health of mother and baby in the months following conception. That's according to nutritionist, Stefanie Valakas, a leading women's health and fertility dietitian who helps couples struggling with trying to conceive. Stefanie's practice and consultancy firm, the Dietologist, is based in Sydney, from where she has an online following of thousands of women across the world. Stefanie explains some of the ways the Mediterranean diet can be applied to couples trying to conceive or who are pregnant.
Click on the above links and listen to the podcasts.
Oils are used every day to prepare and cook food. How do we choose an oil that is the healthiest? The type of oil in the diet can have a positive or negative effect on our health depending on the following factors; the source of the oil, the amount of antioxidants found in the oil, the fat profile of the oil; is it mainly saturated or unsaturated fat or does it contain trans fats? And lastly, what types of cooking methods or meal preparation is a particular oil most suitable for. This Oil Comparison section is designed to help you choose the most suitable oil for your health.
Stay up to date with the most recent, evidence-based, olive science blogs:
Inspired by Dr Elizabeth. D McCord (McCord Research, Iowa, USA) and with Professor Dimitrios Boskou (Emeritus Professor, Aristotle University, Thessaloniki, Greece) as a senior advisor, we created OliveNetTM, a comprehensive database of compounds derived from the various olive matrices.  The database contains, to our current knowledge, a complete, curated and comprehensively referenced list of compounds identified from the various matrices of the olive (fruit, leaf and olive oil) as well as in the wastewater and pomace produced during the extraction of olive oil.  With important contributions from McCord research scholars from Monash and RMIT Universities in Melbourne, Australia (Dr Andrew Hung, Natalie Bonvino, Julia Liang, Natalia Benetti and Elena Zafiris), and McCord Research Scientists in Iowa, USA (Dr Nancy Ray and Angela Zhang), the website was designed by Ms Kariel Post and can be reached at www.mccordresearch.com.au
Your immune system is a complex organisation of cells, hormones and organs that are highly influenced by your diet.  A poor diet, particularly a diet low in antioxidants, could contribute to a compromised immune system, potentially increasing the occurrence and symptoms of the common cold and flu.(1, 2)
However, eating a healthy diet full of fruit, vegetables and healthy fats, and including natural supplements in your daily regime may help strengthen your immune system.(1-3)
Click on the above links and read on
Recorded webinars sharing evidence based information about olive oil, olive leaf or olive health and wellness products.
This webinar will delve into the evidence based science of Olive leaf Extract and its health benefits in relation to immune and heart health.
The Olive Wellness Institute will continue to upload informative webinars that explore research and health related benefits of all olive products.
Presented by Ian Breakspear, a naturopath, herbalist and educator, with more than 25 years of experience. Ian is currently a Senior Lecturer at Endeavour College of Natural Health, and is also in private clinical practice in Sydney, focusing on helping patients with cardiovascular disease and chronic inflammatory conditions.
Click on the above link and view.
Are you looking for credible information about olive oil, olive leaf or olive health and wellness products? Do you need some resources to take to a local farmers market or event?
The Olive Wellness Institute has compiled a set of grower dedicated resources. Need hard copies of these resources? Please email us your request at info@olivewellnessinstitute.org
Click on the above link and select the resources you need.