30 Apr

Michael Johnson: The Drive and Dedication Behind Olives SA
Michael's Olives (Throon Pty Ltd)
Contact: Michael Johnston
Mobile 0419 815 839
Producers of Certified Australian EVOO
Michael Johnston accepting both Gold and Silver Awards as well as Best Small Producer at the 2019 Olives SA Awards Dinner.
Michael Johnston (MJ) retired in 2010 following a distinguished 48 year career in pharmacy, having graduated in 1962 from Adelaide University, followed by work in London for 2 years, before setting up his pharmacy business in Alice Springs where he practiced for 20 years, followed by the Adelaide Hills at Lobethal.
MJ purchase land on top of Willunga Hill in the Southern Vale region of South Australia in 1999, used mainly for grazing, but he thought about other uses, but was advised the land was not flat enough for vines and without adequate water.
It was Sue Sweeney from PIRSA who suggested olives, so the first block of 150 olive trees was planted in 2000.  This is a mixture of Koroneiki, Frantoio, Manzanillo, Correggiolo and a handful of Kalamata. Having read Michael Burrs manual on olives, MJ chose what he thought would survive the altitude, wind and restricted water. A second grove was planted 2002 with 150 trees but this is not irrigated and with more Koronieki.  All water is sourced from a farm dam and pumped to the grove, preferring dripper irrigation due to the high winds.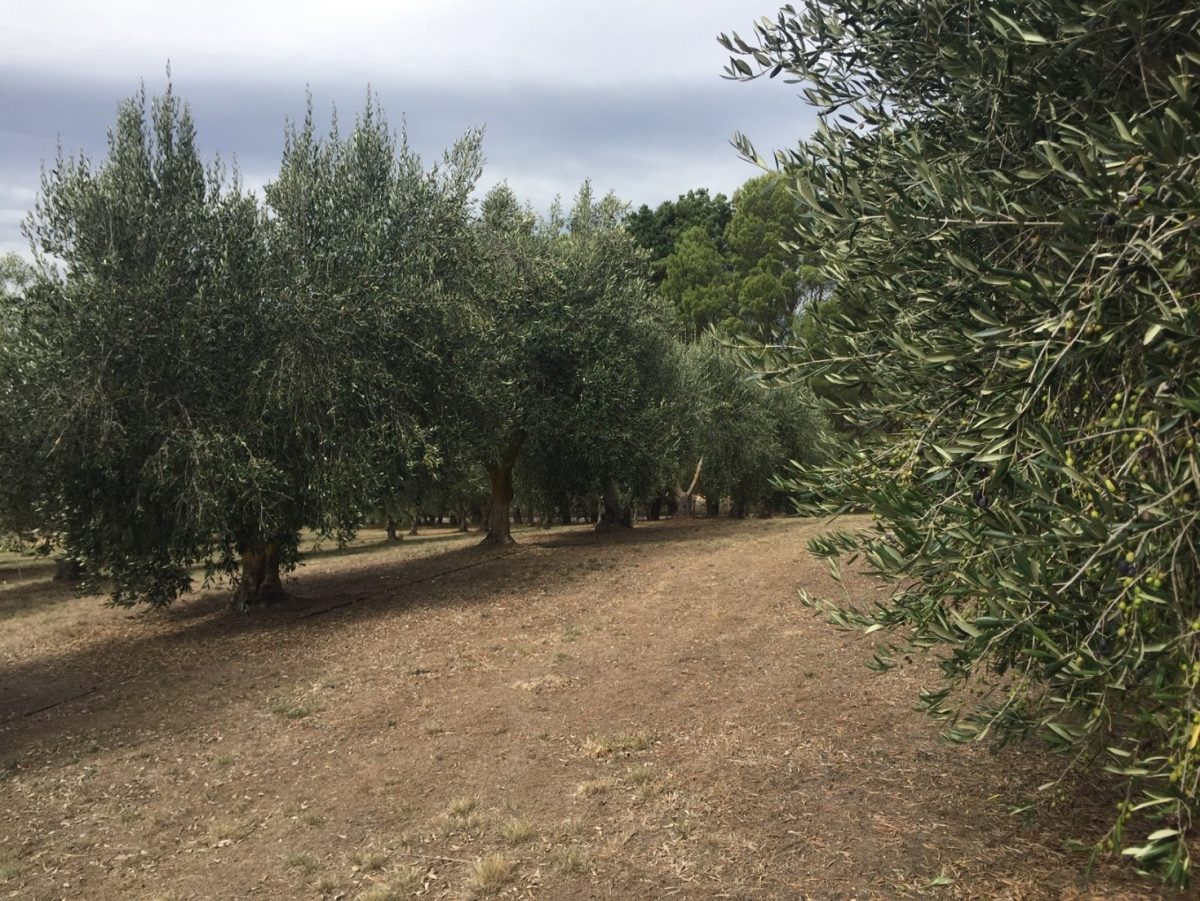 Michael's Olives 300 tree grove, Willunga Hill, South Australia
MJ also felt the need to have a better understanding of the olive venture, and it so happened that the Charles Sturt University in Wagga Wagga was conducting a course on 'Oleaculture', covering planting, soil care, pruning, chemistry and harvesting. The course was undertaken over a year by correspondence, with two one week practical live-in sessions at the University, concluding in 202, this was a wonderful introduction to olive growing.
The brand is MO for Michaels Olives, and MJ wanted to have varietal distinction as well as coloured labels to identify each. Wanting the label to look as professional as possible from a marketing point of view, MJ asked a graphic designer to produce the labels. There are three labels, two varietal, Koroneiki and Correggiolla and a blend.
Michaels Olives is highly awarded label winning a Silver medal for the first harvest (Koroneiki) in the 2003 Olives SA EVOO Competition.  With his dedication to EVOO excellence this early success was followed by lots of Gold (G) and Silver (S) and Bronze (B) awards, as well as a Best in Class and a Best in Show across several competitions:
Olives SA / Royal Adelaide: 2019 (Best Small Producer, 1G,1S), 2018 (2Best In Class,1G,2B), 2017 (3B), 2016 (1S,1B), 2015 (Best in Class,1G,1B), 2014 (1S) / 2013 (Best in Show, 1G) / 2008 (1G)
AOA / AIOA: AIOA 2019 EVOO (1S), AIOA 2018 EVOO (1G), AIOA 2017 EVOO (1S,1B), AOA 2016 (1G), AOA 2015 (1S), AOA 2014 (1B),
Fleurieu Peninsula Fine Foods: 2018/19 (1S,2B), 2017 (1G), 2016 (1S)
At the 2018 Australian International Olive EVOO Awards, Michael's Olives (MO) won a Gold Award (Class 3 Robust) with a Frantoio & Manzanillo blend, scoring 88 points and received the following comments from the judges: "Complex chocolate, cake batter, herbs and floral notes on the nose transferring to the palate with good intensity. Orange and lemon flavours also evident on the palate. Light but creamy mouthfeel with bitterness and pungency flowing on well from the flavours with a lingering pepper aftertaste. A very harmonious and seamless oil."
MJ is also very industry minded, joining Olives SA in 2004/5 and taking on the position of Treasurer under the watchful eye of Lisa Rowntree, who was Olives SA President at the time.
In 2013/14 MJ was elected President of Olives SA, at that time he was also co-opted onto the Board of the Australian Olive Association as AOA Director SA. (Kent Hallett now holds that position).  Michael continues to serve as President of Olives SA.
MJ was also a member of the Fleurieu Peninsular Olive Association until it was disbanded with the local EVOO competition moving under the 'Fleurieu Food' banner, with MJ continuing to provide stewarding and judging support.
MJ also serves as Chief Steward to the Royal Adelaide Olive Oil Awards which takes place in August each year, and will be on again this year – open to all commers!
Olives SA continues under MJ's stewardship as a progressive and dynamic organisation, organising local field days and consumer education activities including the daily EVOO & table olive tasting event held across all 10 days of the Royal Adelaide Show (which unfortunately has been cancelled for 2020); as well as convening regular WEA community education events including table olive tasting with Rosa Matto in July, and EVOO tasting with Trudie Michels in November.
Olives SA is also working hard on the renewal of the National Olive Variety Assessment (NOVA) grove at the Roseworthy Campus of Adelaide University. This grove was planted in 1999 & has some 600 trees, all identified and DNA tested, making it a valuable national germplasm repository.
Olives SA recently convened 2 working bees held at Woodside Farm in the Adelaide Hills to assist Ronald & Ethne Baker with the recovery of their grove after the devastating December 20, 2019 bushfire.
MJ is a proud member and strong advocate of AOA's OliveCare® program, regularly participating in and promoting AOA events resulting in very high levels of SA producer participation in national field days and workshops.
As a reflection on MJ's community mindedness, he was made a Life member of the Apex Clubs of Australia.